FOCUSED INITIATIVES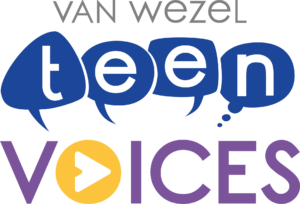 FOR TEENS, BY TEENS. A mentorship with Van Wezel Teaching Artists providing support
to create and share meaningful art, addressing pressing topics.
THE PROGRAM
TEEN VOICES Ambassadors complete an arts project under mentorship of professional artists.
Phase 1:
The Need: Brainstorming around areas of focus through arts activities, teen identify their yearly focus.
Phase 2:
Development: Partnered with a Van Wezel Teaching Artist, Teens create an art project addressing the topic designed to encourage thoughtful dialogue among peers.
Phase 3:
Project Launch: Teens share their project with the community.
In 2021, during a year where unprecedented challenges faced our community, two inaugural TEEN VOICE AMBASSADORS
worked with Van Wezel Artists to explore The Arts and the Importance of SELF-CARE.
Learn about their experiences here.
Meet our 2021 Teen Ambassadors
KIRAN KADIYALA
Kiran is a current senior at Pine View School for the Gifted in Osprey, FL. She is a classically trained Indian dancer and has performed in various venues throughout Florida, such as the Sarasota Opera House and The Players Centre of Performing Arts with her dance troupe. She has studied under the Florida State Department's Folklife Program as an Apprentice and performed for international audiences, ultimately earning the title of "Global/Cultural Ambassador."
She has also performed in fundraisers for her troupe, including the annual Sarasota Relay for Life and the Hindu Temple of Tampa Cultural festivals. Kiran recently graduated from amateur dance training and has been named a "Master" of Indian Classical Dance. She hopes to continue the tradition of sharing her heritage with more and more audiences by teaching young students the importance of the art of dance.
Kiran's Project:
Bharatanatyam, a form of Indian Classical Dance, has proven to be the most important creative outlet that I have in my life. For thirteen years, I have studied the foundational techniques and nuances that are present within the art form but upon becoming a master, I suddenly realized its positive effects on my mental health.
Its rhythmic movements are akin to yoga and its fast-paced beats enable me to cathartically release my complex emotions—much like exercise and running does for many others. Bharatanatyam combines meditation with physical release, proving itself to be my most valuable outlet for centering and grounding myself.
Today, I hope to share my experience in Bharatanatyam with other young adults, encouraging them to seek out activities, communities, and people that make them feel at home and like their authentic selves. Ultimately, I wish to encourage many other teens like me who may feel alone, isolated, or pent up to accept themselves as they are and create a plan to find a community or hobby that helps them regulate those emotions and become confident in their skin.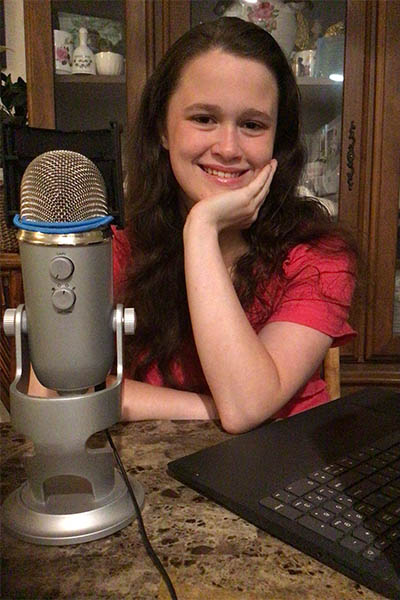 MEGAN TOUCHSTONE
Hello! I'm Megan Touchstone! In May 2021, I will be graduating with a high school diploma and Associates of Arts. I am 18 years old and love dogs. I even have a service dog in training named Some Buddy to Love (Buddy for short). I also like to write, scroll through social media to see dog pictures, draw, volunteer, research different topics, and hang out with my family. I love children, and they usually love me. My ultimate goal is to become a child psychologist and make an impact on the mental health crisis.
My life is full of stressors. Not only am I juggling high school work, college work, family, friends, volunteering, a pandemic, and deciding where I am going to spend the next couple years of my life, but I am also disabled. I have what is called a dynamic disability. Sometimes my disability is invisible, whereas other days I am stuck in a walker or wheelchair. However, everyday I am in chronic pain that just does not go away. My disability can also bring along dizziness, shortness of breath, brain fog, gastrointestinal issues, and severe fatigue. And let's not forgot to add all the appointments with specialists, tests, and medicine infusions.
Megan's Project (Handle with Self-Care)
Through my podcast, I want to share knowledge about self care that might hopefully help the mental well-being of my audience. Next, I want to spread awareness of mental health and its importance. There is a mental health crisis in the area, especially during a global pandemic. I wish to help make a positive impact on this crisis and hopefully be a driving force that helps solve this crisis. 
Want to make your voice heard?
We will be announcing the application process for the 2021-2022 Teen Voice Ambassadors soon.
Contact us and/or sign up for our e-newsletter (register below) to stay updated.