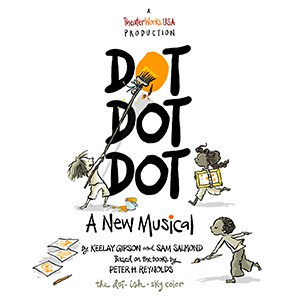 dot dot dot
Appropriate for students in Grades 1-5
10 and 11:45am – October 17, 2023
DOT DOT DOT: A New Musical is an exciting new musical based on the Creatrilogy trio of award-winning picture books by New York Times bestselling author Peter H. Reynolds- The Dot, Ish and Sky Color. Adapted by Composers Keelay Gipson and Sam Salmond, the musical, like the series, celebrates the power of originality, self-expression, and opening our eyes to look beyond the expected.
When Marisol (Sky Color), a young artist and curator of the Musee de Marisol, decides that her gallery requires more than her own art, her search for emerging talent leads her to Vashti (The Dot), whose dots inspire Ramon (Ish) to become an artist in his own right.
The musical follows Marisol's journey to help her new friends, and her entire community, break free from self-criticism and learn to let their imaginations soar.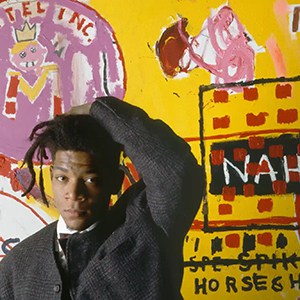 jean-michel and the be-bop kings
Appropriate for students in Grades 4-12
10:00 and 11:45 – November 6, 2023
Jean-Michel and the Be-Bop Kings aims to introduce young audiences to the legacies of these groundbreaking musicians through the captivating work of Jean-Michel Basquiat and explores what they share in common and how their respective life experiences and the social conditions they navigated shaped their worldview, informed their artistic sensibilities and inspired prolific creative output. 
Jean-Michel Basquiat (b.1960-d.1988) ranks among the most compelling painters of the 20th Century. He possessed a deep love and passion for jazz, particularly the be-bop style, and found great inspiration in the creative achievements of the genre's great masters, often paying homage by depicting them in his paintings as noblemen, kings and heroes. Not unlike the music of Charlie Parker, Miles Davis, Max Roach, Dizzy Gillespie and other architects of modern jazz, Basquiat's work possesses visceral intensity, humor, spontaneity, fire and grit.
call of the wild
Appropriate for students in Grades 7-9
10:00 and 11:45 – November 14, 2023
Jack London's classic tale comes to life on stage. This multi-media adventure mixes performance and storytelling with projected illustrations to tell the story of Buck, the magnificent offspring of a St. Bernard and Scottish Collie.
Kidnapped from his lavish life on a California estate and sent to work as a sled dog during the great Klondike Gold Rush of the 1800s, Buck becomes the most famous dog in the northland's history and discovers the endurance and strength of his wild, primal ancestors as their call courses through his blood. A thrilling tale of courage and survival.
The production uses 180-degree projection that surrounds the performer and provides scenic, artistic, and historical context to the show through their content. The images feature a unique mix of Philip R. Goodwin's classical illustrations from the book's first edition, period photographs, and brand-new drawings and animations created by artist Michael Rae.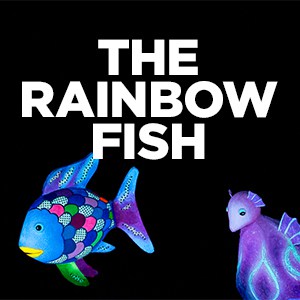 the rainbow fish
Appropriate for students in Grades PreK-3
10:00 and 11:45 – December 7, 2023
The Rainbow Fish will enchant even the youngest child with his silver scales and heart of gold in this award-winning book about the beautiful fish who learned to share his most prized possession. Mermaid Theatre of Nova Scotia brings The Rainbow Fish to life with their enchanting puppetry.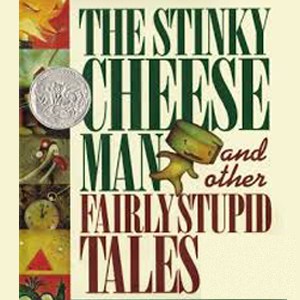 the stinky cheese man
Appropriate for students in Grades 1-4
10:00 and 11:45 – January 17, 2024 (North Port Performing Art Center)
10:00 and 11:45 – January 18, 2024 (Van Wezel Performing Arts Hall)
Based on the book by Jon Scieszka and Lane Smith. Poor Jack. He's got to use his wits to save himself from the terrible Giant, but a host of familiar fairytale characters keep messing up his plans—and then there's that annoying Stinky Cheese Man! The Stinky Cheese Man and Other Fairly Stupid Tales deconstructs the tradition of the fairy tale. Characters slide in and out of tales; Cinderella rebuffs Rumpelstiltskin, and Goldilocks meets the Three Elephants. Nothing is quite the same as you remember it.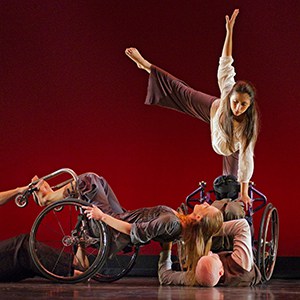 Revolutionary Moves: Defying Limits Through Dance
Appropriate for students in Grades PreK-12
10:00 and 11:45 – January 23, 2024
The Van Wezel Performing Arts Hall and Ruth Eckerd Hall are partnering with Revolutions Dance Company to produce an interactive, educational Schooltime Performance focusing on Disability and the Arts. Revolutions Dance Company is a Tampa-based integrated dance company that features seated and standing dancers.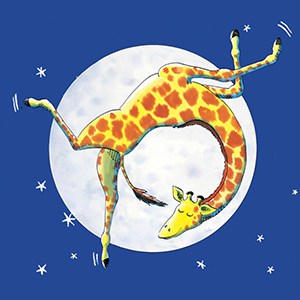 GIRAFFES CAN'T DANCE
Appropriate for students in Grades PreK-3
10:00 and 11:45 – February 7, 2024
All the animals in the jungle know their own special dance, but Gerald the Giraffe can't seem to move without a clumsy step. But with the help of a wise cricket, he finds his own song, and dances to the beat of his own drum! In this stage adaptation of the beloved children's book, with puppets, African rhythm, and lots of dancing, Gerald learns that his differences are what make him special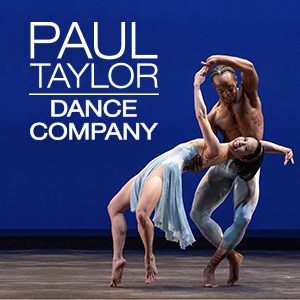 paul taylor dance company
Appropriate for students in Grades 2-12
10:00 and 11:45 – March 19, 2024 
Paul Taylor Dance Company is a world-renowned modern dance company. They are performing on the mainstage on Monday the 18th and are staying to share some of their exciting dances with Schooltime audiences!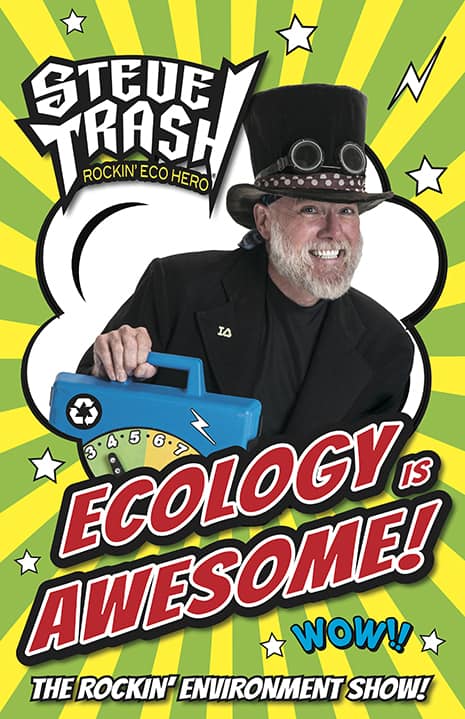 SCIENCE OF ECOLOGY WITH STEVE TRASH
Appropriate for students in Grades 2-5
10:00 and 11:45 – April 8, 2024 (North Port Performing Arts Center)
10:00 and 11:45 – April 9, 2024 (Van Wezel Performing Arts Hall)
This brand new show features all new music, new magic, new explanations and a new Pollution Monster. Pollution Monster? Yes. Pollution Monster! And lots of new funny stuff. It's a whole new show with the same ecological theme but different content! Woohoo.  A terrific STEM based eco-educational show that's specifically tailored to the school audience. An excellent blend of curriculum based ecological lessons (with lesson plans), awesome green themed magic tricks, music and craziness that kids find irresistible. Your kids will take home a new understanding of their connection to the planet.